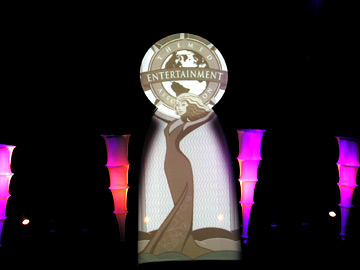 :: Who we are :: What we do :: Project Gallery :: Equipment ::Job Opportunities :: Links :: Contact :: News ::FTP
Personal Creations, Inc specializes in the design and production of lighting, projection, and show control for both live events and permanent installations. Our experience includes Concerts, Tours, Spectacles, Theatre, Opera, Ballet, Theme Parks, Special Events, Art Installations, Trade Shows, and Retail. Our services include Film, Video, and Multi-image production, along with Special Venue film consulting. Large scale multi-image projection integrated with lighting is our trademark, as are projects that strive to create a seamless whole out of many different media elements.
We are a leader in wide screen digital multi-media projection.
Our state of the art in-house services and facilities include:
• Lighting Design
• Projection Design
• Design Consultation
• Film, Video, Multi-Image, Computer Graphics - Design and Production
• INSTANT MEMORIES! - A complete multi-image show in minutes (slides, video, or digital multi-media)
• Large Scale Slides for Pani, Pigi, or Hardware Xenon Projectors
• Photography - Location and Studio
• Computer Graphics
• 3D Computer Modeling, Animation
• 3D CAD
• Digital Image Scanning (Flat Art and Transparencies)
• Non linear video editing
• High-End Mac based production studio: ProTools, Final Cut, Media Cleaner Pro, Photoshop, After Effects, Painter, QuarkXPress, 11 x 17 flatbed scanner, Nikon film & negative scanner, color Laser printers.
• Screening room with 3 screen Watchout digital projection and 18 35mm slide projectors
• Dataton Show Control System for projection, video, lighting, DMX, rigging, audio, computers, RS232, etc
• Stock video and slide libraries
• All Digital Panoramic Projection - With Watchout from Dataton we can create multiscreen, seamless panoramic shows that surpass known technologies like multi-image, video walls, or even film.
Integration:

• We offer complete integration of all projects, including equipment sales and rental touring support.
• Our services are provided seperately or as complete projects.
• We provide all management and technical support for our productions.
• Our multi-image and control equipment is available for rent.
Please ask us about any services you don't see listed, We will be happy to help you wherever we can!