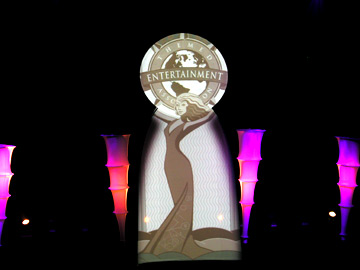 :: Who we are :: What we do :: Project Gallery :: Equipment :: Job Opportunities :: Links :: Contact :: News ::FTP
PERSONAL CREATIONS, INC is a design and production company specializing in theatrical projects and live events for concert touring, theme parks, theatre, special events, art, and exhibits. Owned by award winning creative producer and designer Marc Rosenthal, Personal Creations concentrates on panoramic digital and large scale multi-image projection, videos and films, theatrical and concert lighting design, and show control.
Marc Rosenthal is an award winning Producer/Designer specializing in live theatrical projects. He is the President of Personal Creations, Inc., a design and production company that focuses on projection, lighting, multi-media, and show control for live events and permanent installations in theater, opera, dance, ballet, theme parks, special events, spectacles, concert touring, art, corporate production, and trade shows. Personal Creations is a leader in panoramic digital and very large-scale projection.
Mr. Rosenthal is known for integrating projection and lighting, and creating complete multi-media productions. Credits include many theatrical shows with clients such as the Mark Taper Forum, the Ahmanson, LA Opera, and Los Angeles Ballet. He Produced and Designed Lighting, Projection and Sound for Casablanca, the Dance for Los Angeles Dance Theater and Warner Bros., premiering an historic production at the Great Hall of the People in Beijing, P.R.C. He consulted on artist Tom Sewell's new digital multi-media traveling art show, a new Visitors Center in Hemet, a project for Grand Tetons National Park, and is developing several theatrical touring projects.
Recent projects include Co-Designing and Integrating the illuminated uniform special effect for the 250 member Florida A&M marching band at Super Bowl XLI Halftime Show with his wife Marcy; Projection for Susan Krebs' theatrical jazz production The Aviary; Dr. Laura's In My Never To Be Humble Opinion; Lewis and Clark Reach the Euphrates, Like Jazz and Talking Cure at the Mark Taper Forum; a kinetic digital artwork for the world premier of Ballet Austin's Touch; the critically acclaimed award winning Fountain Theatre hits Master Class and Daisy in the Dreamtime; Clear Channel/ Nickelodeon Tour of Rocket Power Live; complete video productions for the California Citrus Park State Historic Park (2004 Houston International WorldFest Gold winner) and San Bernardino Forest Association; multi-screen digital presentations for Toshiba and Pioneer New Media; complete digital multi-media productions for Coca Cola Live! at the Salt Lake City 2002 Olympics; Lighting Design for the world premieres of Sister Carrie at Indiana Rep; Perfect Christmas Guaranteed and The Nutcracker for Dance Connecticut; and 3D computer pre-visualization for Universal Studio's The Mummy (2005 Thea Award for Outstanding Achievement).
Additional projects of note include Ghosts and Legends of the Queen Mary, a permanent installation on the great ship; Affliction of Glory at the Getty Center; Metamorphosis at Pleasure Island in Disney World; Sir Peter Hall's Magic Flute; Show Control for Splash and La Femme in Las Vegas and Innoventions at Disneyland; Steps in Time at Disney California Adventures; SkyPower '99 in Houston, the world's largest sky show; Josh Groban, Sting, Graham Nash, Barbra Streisand, Steve Winwood and Traffic.
Art projects include a complete digital projection and UV black light installation in a dome for Burningman 2004; a commissioned kinetic digital artwork for the world premier of Ballet Austin's Touch; an elaborate art car with UV lighting for Burningman 2003; collaborations with artists Jan Sawka, and Christina De Musee, and with artist and wife Marcy Rosenthal, creating unique environments, costumes and props with light.
Mr. Rosenthal Directed and Produced the War Pigs video for Ozzy Osbourne's No More Tours tour; Produced the short film Goalie…The Game Continues, a Houston Film Festival Gold Award winner; and Pas De Deux, a specially released video featuring six of the best classical ballet partnerings in the world.
Mr. Rosenthal was awarded Lighting Dimension International 2005 Projection Designer of the Year Award. He was Vice President of the International Board of Directors of the TEA, and Executive Producer of the annual Thea Awards for the themed entertainment industry. He has been a guest lecturer, a contributing editor and featured writer for Pro Lights and Staging News, and has written for Lighting Dimensions and Stage Directions magazines.

TEACHING & PUBLICATION
Fiber Optics in Theater: April, 2003 Stage Directions. Article for industry publication.
Instructor: 2003 IATSE Local 720. Taught several classes on beginning and advanced show control.
And Now For: Jan-Dec 2000 Pro Lights and Staging News. Contributing Editor and featured columnist with monthly article on wide ranging issues regarding lighting, projection and show control.
The Borealis Effect: April, 1999 Lighting Dimensions. Review of new LED panel wash lights for industry publication.
Panelist: 2000-2002 TourLink. Concert industry guest panelist for lighting, projection, show control.
Panelist: 1994-2000, 2005-07 Lighting Dimensions International. Guest panelist on numerous industry panels regarding lighting, projection, show control.
Guest Lecturer: 1992 UCLA Graduate program. Taught MFA students on history and practical uses of projection

EDUCATION
Bachelor of Theatre Arts: 1981 SUNY Stonybrook.
Dale Carnegie Management School: 1984
AWARDS
Lighting Dimensions International Projection Designer of the Year 2004
Houston International Film Festival Gold Award 2004

PROFESSIONAL AFFILIATIONS
Int'l Assoc. of Amusement Parks & Attractions (IAAPA) USA Local 829
National Academy of Recording Arts and Sciences (NARAS) Cindy Awards Blue Ribbon Judge (AVC)
Who's Who in Entertainment Who's Who in Executives & Business
Life Member of Nat'l Registry's Who's Who 1999 Edition Themed Entertainment Association (TEA)
[Past Vice president, Secretary, Int'l Board of Directors]Owner Personal Creations, Inc., a design and production company.